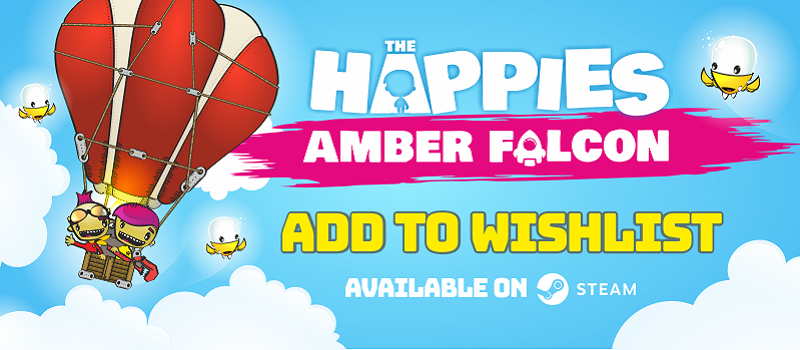 The Happies - Amber Falcon
… THERE WAS A CATASTROPHIC DISASTER AND OUR PLANET WAS DESTROYED. WE EVACUATED IN THE LAST SECONDS BEFORE THE END IN SPACESHIPS – WE WENT INTO THE UNKNOWN. SINCE THEN, WE'VE BEEN TRAVELING A WIDE SPACE AND LOOKING FOR THE PLANET, THAT WILL BECOME OUR NEW HOME …
About the Happies
The Happies: Amber Falcon is a small casual game from the original world of eternally happy little people – Happies, where you control a hot air balloon and explore different mission environments. In a disaster of cosmic proportions, the Happies are forced to leave their planet in a hurry on evacuation ships. One of these ships is the Amber Falcon.
Part of the crew found themselves on an unknown planet after a mysterious accident. Build a hot air balloon from the wreckage of the evacuation module and go on an adventure. In the story campaign, explore unknown locations, explore ancient artifacts, and collect resources to repair the ship. Save the crew and maybe, just maybe, you can find a new home for the Happies…

In this 2d hand-painted side scrolling game, you will control a balloon, collect alien fireflies - enerbees that power your balloon with their energy, avoid obstacles and traps that the new planet has prepared for you. Ten story missions and countless free levels from different environments await you in the game. The Happies is suitable for beginners and children as well as experienced players. It offers 3 different difficulties for everyone to enjoy. About us
We are a small game development studio based in the Czech Republic, consisting of two members. Lukas takes care of the programming and Josef is in charge of the graphics.
We started the studio with one main goal: To create fun and unusual games that inspire and most importantly to leave behind something we can remember.